Our Story
Founded in 1986 by Annie Rhodes and Kingsley Dawson, we are still a family owned business. Although the 'Bookspeed family' has grown significantly over the years, we are a very close-knit team with a wealth of retail experience and knowledge to share with you.
Annie and Kingsley had previously worked together in a cooperative that provided sales, marketing and distribution for the plethora of feminist, radical, green and LGBT publishers that had evolved over the previous decade. Then working in London, Annie and Kingsley wanted to move back north and the opportunity presented itself to relocate to Edinburgh and set up their own company.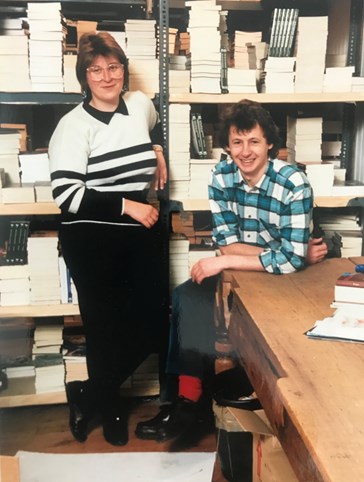 Both were committed to establishing a workplace that would implement their own progressive social attitudes. The founding principles were that Bookspeed should be an inclusive, respectful and open place where people would work without fear of prejudice regardless of their gender, ethnicity, sexuality or religious beliefs.  Although more widespread now in work environments, these principles were less common in the late eighties.
Pitching originally to provide an efficient, next day, UK-wide wholesale delivery service, Bookspeed gradually evolved, changing shape and direction as different markets were identified. Annie and Kingsley realised that they could use their knowledge of the publishing industry to curate tailored ranges for customers, helping them enhance their retail offering with carefully considered books.
photo: Annie & Kingsley at Bookspeed 1988
While emphasising close customer and supplier relations, the business learned to read market trends and identify opportunities, and in the late nineties began to apply its unique business model to new markets. After exhibiting thematic, attractive and colour coordinated book ranges at various Gift Trade Fairs, it was quickly evident that Bookspeed could capitalise on its unique offer of providing bookselling selection skills to the growing Gift and Heritage sector across the UK.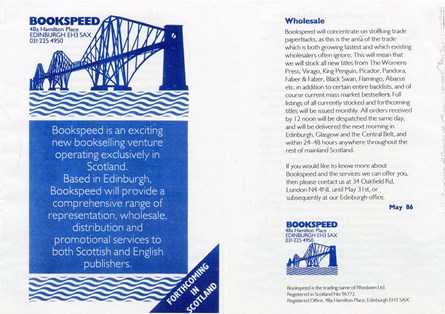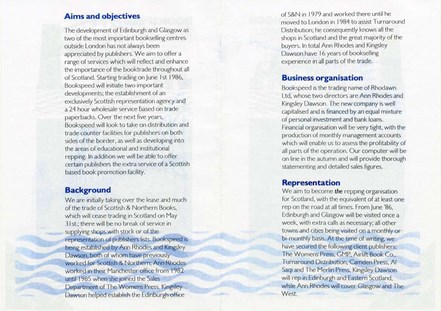 photo: Bookspeed's first leaflet 1986
Bookspeed now supplies well over 1500 retailers of all sizes across the UK and Ireland and employs almost 50 people at its Edinburgh offices and warehouses. The business is still wholly owned by the Rhodes Dawson family and Lewis Dawson, Annie and Kingsley's younger son, is now the Managing Director.
The vital founding principles of inclusivity, openness, responsibility and respect remain at the core of the business.  They inform everything we do and ensure that Bookspeed strives to be the best possible company both to work for and do business with.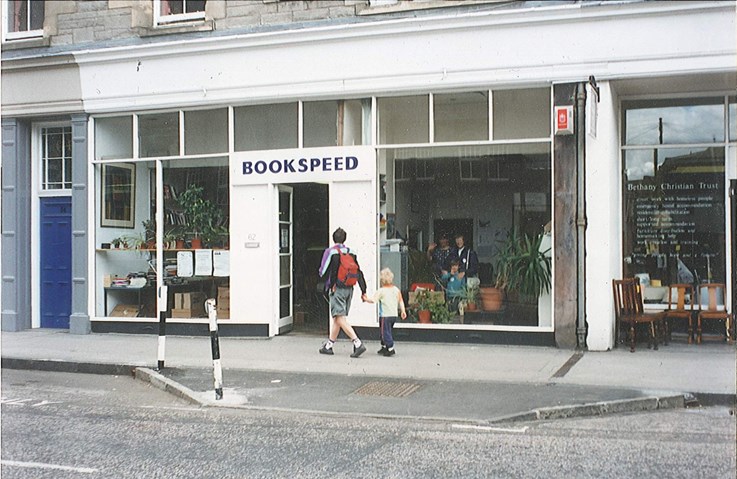 photo: Kingsley & Lewis at Bookspeed 1994
Want to open an account with us ?
Call our friendly customer service team on 0131 467 8100 or email them at sales@bookspeed.com
They will talk you through our service in more detail and start your trade account opening process.
Or you can simply fill in the on-line form here and submit it. Someone will call you back to discuss your needs.